Our Associated Colleges of the South Mellon project teams six ACS institutions that share an academic ideology: that the study and practice of dance play a pivotal role in a liberal arts community and by offering transformative experiences in critical and improvisational thinking and problem solving we aid our interpretation and understanding of one another and our world.
As a group we feel deeply the need to de-center the privilege embedded in our field, to collaborate and cross-pollinate between departments, and provide our students with new and different voices than our own—voices such as professors who represent and teach the native or contemporary dances of Africa, Asia and South America, for example, but also those who teach in small, specialty and underrepresented areas including Disability in Dance, Intersectionality in Dance, and valuable-but-rarely-taught subjects such as Music for Dance. We plan to target traditionally underrepresented populations as well as undervalued topics, and offer students greater depth in dance studies.
By bringing professors from six of the eight ACS dance departments to participating campuses, we are creating a model for shared teaching wherein each professor, in her own unique voice, engages with new students, and exposes them to fresh, specialty-specific, pedagogy through master classes, lectures and workshops. Through this, students will, in effect, come to understand and experience the richness of a pan-cultural dance program with a diversity of styles and forms. This benefits the campuses involved by strengthening small dance programs through the diversification of course offerings and leads to inclusive excellence, which we anticipate will help departments attract and retain a broader range of students to our classes and majors/minors.
Our hope is that the relationships formed through this project will flourish and lead to collaboration on a larger scale, where students might visit one another's campuses to share work, delve into critical analysis, or make new dance works together. It's our hope that this might be a small step toward the colleges' ultimate goal of attracting a more diverse student body and faculty.
---
---
Davidson College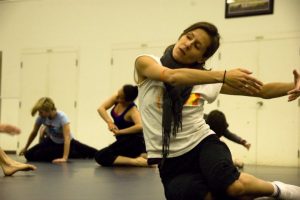 Alison Bory
Associate Professor and Chair of Dance
albory@davidson.edu
Ph.D., M.F.A. University of California Riverside
M.A. University of Surrey
B.A. Mount Holyoke College
Alison Bory, Associate Professor of Dance at Davidson College, teaches courses at the intersections of the theory and practice of contemporary dance.
An active teacher, dancemaker, and scholar, her primary sites of academic research explore the sociocultural impact of autobiographically-driven performance and the possibilities of contemporary experimental dance forms. Her writing has been published in a/b: auto/biography studies journal, Performance Matters, and Choreographic Practices. Her independent performance work has been shown at numerous locations and festivals across the US, including Judson Memorial Church, The Field (NYC), Spoke-the-Hub (Brooklyn, NY), Highways Performance Space (LA), Big Range Dance Festival (Houston, TX), Laredo Civic Center (TX), the school at the American Dance Festival, Mt. Holyoke College, UNC Charlotte, UCLA and UC Riverside.
Since 2011, she has been producing work with AGA Collaborative, a trio of artist-scholars who make performances to sweat through ideas about what it means to be alive just now. They are currently developing a new evening-length work, It's five o'clock somewhere, which is the third in a triptych of pieces, including placed (2015) and win.place.show.(2016), that explores the structures and pressures that ask us to perpetually achieve.
Rollins College
M.F.A. Interdisciplinary Arts, Goddard College
Ed.M Dance Education, Temple University
B.F.A. Dance, University of the Arts
My teaching and research interests stress the interconnectiveness of movement with multiple disciplines, aesthetics, criticism, historical and cross-cultural perspectives. Through teaching I work to develop students' abilities of movement and introduce them to new ways of seeing and knowing the world; all of which provide a framework for the exploration of creativity and individual expression. In addition to my degrees, I have concentrated training with Ann Vachon and Risa Steinberg, original members of the Limon Dance Company, and the Dance Exchange (Liz Lerman). My most recent performing has been with Elle Vie Dance Company. As a choreographer I enjoy engaging the community by presenting site specific works and producing community-based dance events.
The University of the South
Courtney World
Associate Professor of Dance
coworld@sewanee.edu
M.F.A., The College at Brockport
B.A., The University of Buffalo
Courtney World is a dance artist and educator, originally from Rochester, NY. In her professional performing career, she danced for eight years simultaneously with Bill Evans Dance Company/Bill Evans Rhythm Tap Ensemble, and BIODANCE, under the artistic direction of Missy Pfohl Smith. She currently performs tap and modern dance with companies and independent artists on a project basis. As a choreographer, her work has been commissioned by The Society for New Music, BIODANCE, and Rochester Dance Project, and has been performed nationally at theaters, festivals, and universities. World earned a Bachelor of Arts in Dance from The University at Buffalo, a Master of Fine Arts in Choreography and Performance from The College at Brockport, and is a Certified Evans Teacher (CET). She has taught dance in higher education at The College at Brockport, The University of Rochester, Nazareth College, Hobart and William Smith Colleges, and is currently associate professor and director of dance at The University of the South in Sewanee, TN, where she developed a minor in dance and was named the 2015-2017 recipient of the James D. Kennedy III Endowed Faculty Fellowship. Beyond the studio, World serves on the board of directors as Immediate Past President of the Tennessee Association of Dance and dances through life with her husband, Cameron, her son, Tycho, her German Shepherd Dogs, Shea and Voodoo, and cat, Lola.
Spelman College
Julie Johnson
Lecturer, Dance Performance & Choreography
dance@juliebjohnson.com
Ph.D. Temple University's Boyer College of Music and Dance
M.S., Milano School of International Affairs, Management, and Urban Policy
B.A., Marymount Manhattan College
Julie B. Johnson, PhD, is a dance artist and educator working in the intersections of creative practice and research, African Diaspora movement aesthetics, community interaction, and social justice. She is driven by the ways that dance can serve as a practice of inquiry, empathy, and empowerment. Julie is a Senior Lecturer at Spelman College in the Department of Dance Performance & Choreography and the African Diaspora & the World program. She serves as the Curator for Spelman's lecture series, Inside the Dancers' Studio, uniting audiences and artists to engage in unique creative practices, innovative scholarship, and leading strategies in the field of dance. Julie is a co-founding editor of The Dancer-Citizen, an online, peer-reviewed, open-access dance journal exploring the work of socially engaged artists; and is Executive Artistic Director of Moving Our Stories, LLC, a multifaceted creative practice that explores embodied memory and personal narratives through dance workshops, collaborative choreographic practice, interactive performance, creative and scholarly research, and community dialogues. Julie serves as a co-director of The Georgia Incarceration Performance Project, a devised archives-to-performance collaboration between Spelman College, The University of Georgia, and incarcerated populations, bringing the history of incarceration and convict labor in Georgia to life through embodied archival research and performance. She is a 2019 Arbes Award recipient, and was awarded the 2019 Black Spatial Relics Residency Award for Idle Crimes & Heavy Work, a performance and video installation focusing on black women's experiences within the history of convict labor and incarceration in Georgia. She is a 2018-19 Hughley Artist Fellow, and was the recipient of an Alternate ROOTS Artistic Assistance grant award in 2018. Julie earned a PhD in Dance Studies at Temple University's Boyer College of Music and Dance, where her research focused on meanings and experiences of 'community' in a West African Dance class in Philadelphia.
Kathleen Wessel
Senior Lecturer, Dance Performance & Choreography
Director of Spelman Dance Theatre
kwessel@spelman.edu
M.A., Florida State University
B.A., Emory University
For the past two decades, Kathleen Wessel has called Atlanta home, home-base, and muse. A Florida native, she began her dance training at the School of Performing Arts outside of Orlando and otherwise grew up outside: in the pool and the ocean, on the track and the tennis court. She moved to Atlanta in 1999 to attend Emory University where she became the University's first female pole vaulter – a short-lived title as her skills were limited and the second female vaulter was much better. Into the studio she went, pursuing an interdisciplinary course of study that included psychology, sociology, and movement practices. After graduation, Kathleen briefly moved to London where she trained at the London Contemporary School and immersed herself in the city's rich artistic landscape. She returned to the U.S. to pursue an MFA in dance performance and choreography from Florida State University, graduating at the top of her class.
Currently, Kathleen is a faculty member in the Department of Dance Performance and Choreography at Spelman College in Atlanta where she teaches courses in Critical Writing for Dance, Choreographic Process, Improvisation, and Contemporary dance technique. She is a contributing dance writer for ArtsATL and Dance Informa publications and continues to choreograph and perform professionally. As a founding member of the Atlanta-based contemporary company Staibdance, Kathleen has traveled to Sorrento, Italy as a faculty member on the annual Staibdance Summer Intensive and Stockholm, Sweden on a teaching residency. Her movement studies have also taken her to Tel Aviv, Israel where she worked with Ohad Naharin and the Batsheva Dance Company. She has taught at Emory University and Oxford College of Emory, where she served as director of Oxford Dance Company for three years. Her choreography has been presented throughout the Southeast and has been twice selected for American College Dance Association Gala concerts.
University of Richmond
Anne Norman Van Gelder
Director of Dance
Artistic Director, University Dancers
avangeld@richmond.edu
M.F.A., University of Utah, Ballet (Performance, Choreography, and Pedagogy)
B.A., Virginia Intermont College, Ballet (Performance, Choreography, and Pedagogy)
Anne Van Gelder, Faculty, Department of Theatre and Dance, Director of Dance, and Artistic Director of University Dancers holds a B.A. from Virginia Intermont College and an M.F.A. from the University of Utah, in Performance, Choreography, and Pedagogy. Ms. Van Gelder performed and served as ballet master in companies in Virginia and Utah. As a dancer, Ms. Van Gelder worked with a variety of educators and choreographers from all over the world including Alun Jones, Conrad Ludlow, Richard Munro, Tom Pazik, and Stanley Zompakos. At the University of Richmond, Ms. Van Gelder has worked with Stefanie Batten Bland, Kanji Segawa, Jacquline Buglisi, Bill Hastings, Billy Seigenfeld, and Francesca Harper, among others. Her choreography has been performed in collaboration with UR ensemble-in-residence, Eighth Blackbird. She has taught all levels of classical ballet technique at the University of Richmond, the University of Utah, Virginia Intermont College, and the Willam F. Christensen Center for Dance. In Utah, she served as Dance Instructor/Choreographer for gymnasts who were members of the U.S. Women's Gymnastics Team. Ms. Van Gelder also taught jazz dance in Utah and Virginia and created choreography for Theatre Bristol, Park City Shakespeare Festival, and the Ogden Symphony. She continues to study dance regularly, including workshops in New York where she enjoys studying historic dance. Ms. Van Gelder has created various works for University Players & Dancers, including collaborations with colleagues in the Department of Music. She worked with the Saratov Academic Youth Theatre and has created choreography for the following UR Players & Dancers productions: Wings, The Tempest, Fiddler on the Roof and The Chairs and The Bald Soprano directed by Italian director and filmmaker, Paolo Landi. She has lectured on dance history at the VMFA and regularly teaches at the American College Dance Association conference. Ms. Van Gelder teaches Productions Studies, Dance History-Theory, and all levels of ballet technique. Ms. Van Gelder considers her study of dance and pedagogy ongoing. She is a member of CORPS de Ballet International, Golden Key International Honour Society, and Alpha Psi Omega Dramatic Honorary Society.
Washington and Lee University
Jenefer Davies
Associate Professor of Dance/​Theater
Director of the Dance Program
daviesj@wlu.edu
M.F.A., Dance, The George Washington University
M.A.L.S., Performance, Hollins University
B.A., Theatre Arts, Hollins College
Jenefer Davies is the Associate Professor of Dance at Washington and Lee University and Artistic Director of the W&L Repertory Dance Company. She received an MFA in Choreography and Performance from The George Washington University and a MALS in Dance from Hollins University.
Her choreography has been commissioned by dance, opera and theatre companies and has toured to Spain, Greece, Scotland, and throughout the United States. Davies founded the contemporary modern dance company, Progeny Dance, which has performed at Green Space and Dixon Place in Manhattan, and annually at The Center for Performance Research in Brooklyn. Her work has been supported by the Virginia Commission for the Arts; Washington and Lee University's Lenfest Grants, Johnson Fund, and Glenn Grants; the Treakle Foundation; an Associated Colleges of the South Mellon grant; among others.
She created one of the first academic programs in aerial dance in the country and her aerial dancers have performed at the Ailey Citigroup Theatre in NYC, at the Corcoran Gallery of Art in Washington DC and from the rooftops of buildings on the Washington & Lee campus. Davies has been published in the International Planetarian Magazine, World Congress on Dance, the Nu Delta Alpha Journal and the Athens (Greece) Institute for Research in the Arts Consortium, among others. She serves on the Editorial and Reviewer's Board of the Athens Journal of Humanities and Arts and has reviewed dance proposals for Oxford University Press and The International University Theatre Association. Her book, Aerial Dance: A Guide to Dance with Rope and Harness, was published last fall.